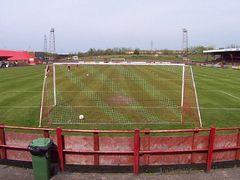 Workington AFC
Ground Name: Borough Park
Capacity: 3,100 (500 seated)
Address: Borough Park, Workington, CA14 2DT
Telephone No: 01900 602871
Pitch Size: 112 x 76 yards
Team Nickname: The Reds
Club Founded: 1921
Year Ground Opened: 1937
Home Kit Colours: Red & White
Official Web Site: www.workingtonafc.com
Fans Forum Web Site: www.workingtonreds.co.uk
What's The Ground Like?
The ground looks as if it really needs some TLC and is clearly starting to show its age. The good news is that it looks far better on the inside than it does from the outside. A small terrace runs along ¾'s the length of the pitch and has a small covered area astride the half way line. Behind this terrace is the large brightly painted red roof of the Club's offices. This odd looking structure, is the remnants of the Club's Main Stand. The stand once had a seated upper tier and roof. However after the Bradford City Fire in 1985, the stand was condemned as being unsafe, so the club removed the upper portions, just leaving the terrace in front, the Club offices including the change rooms. A new roof was added, thus leaving what we see today. The team's dugouts are also located on this side of the pitch.
Opposite is the Popular Side. This is mainly a covered, seated stand, that has terracing to the front and to each side. Along the front of the seated area is a row of supporting pillars. At one end is a fair sized open terrace, which has a grass bank to its rear. The other end is a rather old but quaint looking covered terrace. The covered area is towards the rear of the terrace and extends around one corner. It has a large number of supporting pillars across its front, giving away its age.
Where to Drink?
There are no pubs in the nearby vicinity of the ground. However, inside there is a Club House called Shankly's Bar, named after the legendary Bill Shankly who managed the club in the early 1950's.
Where to Eat?
There is a small café located in the Tesco Superstore across the road from the ground. However Shankly's Bar can provide amongst other delights, a steak pie, chips and mushy peas.
How to Get There by Car & Where to Park
From the M6 Junction 40 follow the signs for Workington A66. Follow the A66 into the town centre, at the bottom of the hill turn right at the traffic light onto Washington Street. Go down the hill and over the bridge, continue straight over the mini roundabout and carry on under the bridge. Take the 3rd exit from the roundabout going back over the bridge, the ground is in front of you on the left hand side with Tesco on the right.
There is car parking available outside the ground and opposite in the Tesco's car park.
Nearest Train Station
Workington train station is located a half a mile away from the ground. It is served by trains from Carlisle.
Admission Prices 2011/12
Adults: £12
Senior Citizens: £7
Children Under 16: £5
Students: £7
Children Under 5: Free
Free transfer to seated grandstand areas within the ground.
Record Attendance
21,000 V Manchester United
FA Cup 3rd Round, January 6th 1958
Posted: Thursday , August 09, 2007